In the Pro10 Stock class Sascha Lennartz grabbed his second TQ in a row, with a 3 seconds margin from current championship leader Andreas Dick. Behind the two Roy Pie, Mathijs Hermens and Franz-Jakob Reinartz rounded out the top 5 after the qualifiers.
The Modified A-mains were a 3-way battle and in the opening leg both Tobias and Sven took profit of a mistake of TQ holder Reinder that allowed the two to pass. At the end Tobias took the win with a 23 laps run from Sven and Tim. At the start of A-main 2 all drivers took off with no problems and soon after Reinder had to defend the attacks of Tobias and Sven, with the latter eventually taking the lead following a nice pass on Reinder and a mistake of Tobias. While the remainder of the field battled for the positions, up front Sven was able to built a gab and ultimately take the win from a recovered Tobias who made a late move on Tim who ended A2 in 3rd place. Reinder and Kai completed the top 5 for now. At the start of A3 Reinder spun out and this allowed Tobias to jump into the lead with Sven in tow. Tobias had to defend the pressure of a storming Sven but he was able to bring home the win in A3 and with it the overall victory, the fourth in a row this season. Sven came in 2nd to grab the runner-up spot while Patrick Miltat, coming from 9th on the grid, ended the final A-main in 3rd place. Overall Tim Altmann grabbed the final podium spot.
The opening Stock A-main saw the battle of Sascha and Roy following a mistake of Andreas but the latter was able to regain the 2nd spot with a pretty risky pass and he soon was on the hunt for the leader but the Sascha was able to withstand the pressure to take the win in A1 by 3/10th of a second. Andreas came in 2nd, Roy rounded out the top 3. A2 and A3 then were a pretty easy affair for Sascha who took the overall win from Roy Pie and Andreas Dick.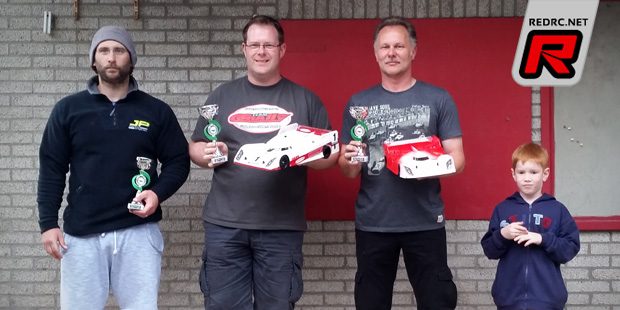 The next round will be held on the weekend of the 9th of August in Bad Breisig with the race also being the warm-up for the German Championships in September.
bron redrc
Uitslagen club race 5, 12 juli 2015,
Uitslagen brandstof circuit 1:5 Tourwagen klik hier
Uitslagen brandstof circuit 1:5 Formule 1 klik hier
Uislagen Elektro 1:10 junior klik hier
Uitslagen Elektro 1:10 Formule 1 klik hier
Uitslagen Elektro 1:10 Pro-ten klik hier
Uitslagen Elektro 1:10 Modified klik hier
Uitslagen Elektro 1:10 Pro10 Stock - LMP2 klik hier
Uitslagen Elektro 1:10 Pro10Mod - LMP1 klik hier