NK class final result:
1. Frank Baggen – ARC
2. Joery Sorber – Shepherd
3. Donny Blommers – Mugen
4. Marc Meijer – Serpent
5. Roy Bakker – Shepherd
6. Marc Schouten – Mugen
7. Patrick Vannieuwenhuyse – Serpent
8. Martin Zevenhoven – Serpent
9. Gunther van Staey – Serpent
10.Koen Geurts – WRC
In the Nomac class Peter Berkhout took the win in the 30 minute main final, one lap ahead of Jesse Keller with Stephan van Rooijen rounding out the podium another two laps down.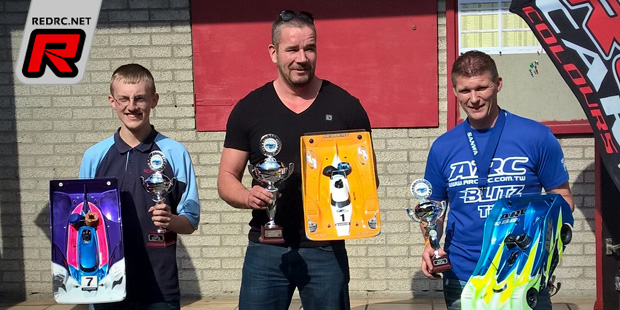 Nomac class final result:
1. Peter Berkhout
2. Jesse Keller
3. Stephan van Rooijen
4. Stanley Bauer
5. Martijn Smits
6. Emiel Jansen
7. Peter van Marion
8. Ad Arents
9. Robbin Hertong
10.Freek van Delft
The Promo class had local racer Dennis Verhoeven coming out successful from Dylan Roks in 2nd and Remco de la Haye in 3rd.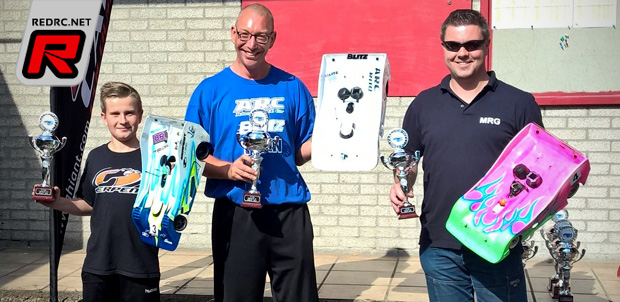 Nomac class final result:
1. Dennis Verhoeven
2. Dylan Roks
3. Remco de la Haye
4. Hans Dokman
5. Marvin Theeuwen
Thanks to Martin for sending the report.
bron redrc
Uitslagen NK 1:8 , 14 juni 2015,
Uitslagen brandstof circuit Promo 1:8 klik hier
Uitslagen brandstof circuit NOMAC 1:8 klik hier
Uitslagen brandstof circuit NK 1:8 klik hier