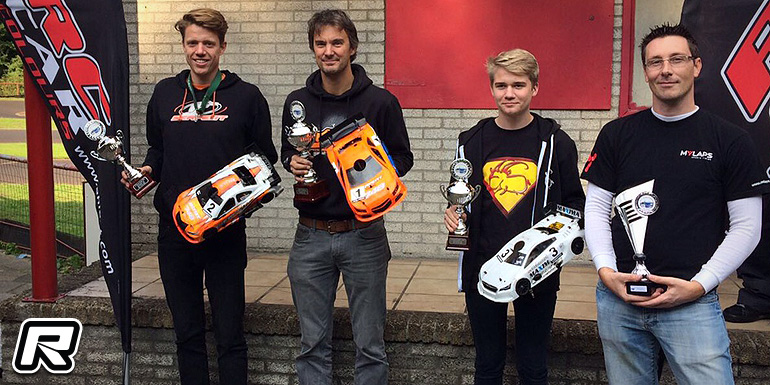 The final round of the Dutch 1/10th Nitro Touring Championship was held at the fast and flowing Baanbrekers track in Rucphen. Both the National and Nomac titles were still up for grabs and with the championship standings close it was all to play for. The weather greeted the drivers with dry conditions on Saturday afternoon, and sunshine on Sunday made for near perfect conditions. Qualifying would start with the Serpent duo of Daan Jacobs and Julius Kolff being only tenths apart, setting the pace from Milan Holthuis who was just a few seconds adrift with his Capricorn. With ever improving conditions, in the second heat everyone looked for improvements but all had minor mishaps which would make for a tense last heat. Julius would start last and this turned out to be an advantage as he could use Milan and Daan as a target and with the only 21-laps run of the day he snatched the TQ.
Times were close though and all would be left to play for in the finals that are run as double 20-minute legs in the Dutch championship with the results being added for the overall results.
The opening final saw Julius lead right from the start and he never look back. Daan had a bad start and drove a strong pace to get back to Milan's rear bumper. Eventually he got by and took the 2nd spot. The second final would see a clean getaway for most and the field came by in qualifying order the first few laps. Julius once again set a blistering pace and slowly pulled out a 3-second gap on Daan, but after the first pitstop Julius' engine ran rich and he quickly lost a lot of time. Daan took over the lead and Julius' pit crew got him in a little earlier and leaned out the engine. With full power available again Julius was in maximum attack mode. Setting the fastest lap of the day, Julius slowly recovered towards Daan and it looked to become a tense second half of the final. Unfortunately this wasn't to be as Daan's engine stalled in the pits and this handed the win to Julius. Milan fought hard but ultimately lacked a little bit of pace this weekend to really challenge for the top spot.
With Julius taking the TQ and win Daan still had a one point advantage over Julius in the final standings and was crowned the 2017 National Champion while Milan Holthuis takes 3rd.
The Nomac class was a close affair as well, and with a strong 5th place overall for the day, Mark Been took the 2017 Nomac championship