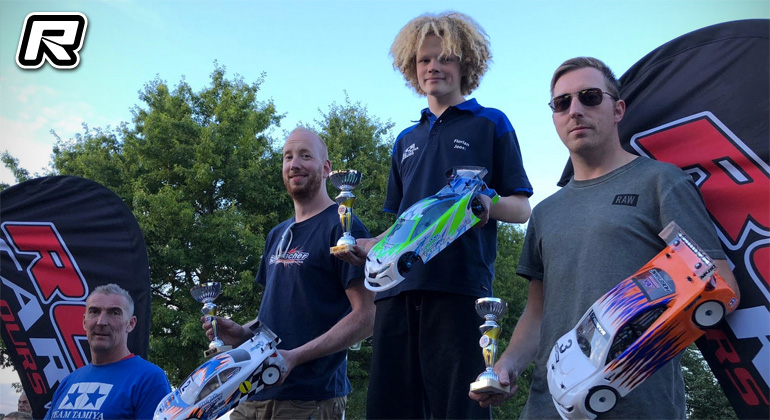 Euro GT
This is the fastest class. With the 12T motors, the cars are about .5 seconds a lap faster than a 13,5 brushless motor. Having taken last year's title, current Dutch champion Robert Krens was the hot favourite for the title. His biggest competition would come from fellow Dutch driver Peter Ende and Belgian racer Florian Joos, who unfortunately missed Saturday's practice rounds. In the qualifiers, Florian Joos made most out of his new rubber to seal the overall TQ with 3 seconds in front of Robert. Peter finished in P3 and was followed by French driver Olivier Cornard and Belgium's Peter Roeygens, the only driver to opt for a plastic TA07 chassis.
In the first final, Robert chased Florian hard and tried to overtake him on two occasions. Unfortunately both cars touched, but Robert sportingly waited for Florian to recover. When they entered the main straight in formation, disaster struck as Florian couldn't avoid a spinning car in front of him. Robert managed to avoid the crash while Florian had to retire his broken car. Robert then pushed hard to recover the lost ground. He first passed Olivier Cornard, then Peter Roeygens. 5 laps from the end he managed to overtake Peter Ende as well to seal the win.
At the start of final 2, Florian managed to create a gap between himself and Robert, because he lowered his gear ration to get some more speed down the straight. After 2 laps however, Florian's car started to behave erratically. His motor fan came loose and was trailing next to his car. At one point, this set him off in a spin, but it also sheered the fan off. In the meantime, Robert took the lead with Florian doing everything to regain the lost time. He crept in Robert's slipstream who held the door firmly shut. As both leaders were about to lap a back marker, Florian made an audacious move to pass both cars. The back marker unfortunately hit Robert, who finished in the grass and had to retire his race. Peter Ende took a fine second place in front of Olivier Cornard, who had to fend off a fast charging Peter Roeygens. Hans Oei made a great recovery and finished in P5 coming from the 10th place on the grid.
The 3rd and last final would decide if Robert would prolong his title for another year or if Florian would take his first title. Robert used 2 sets of rear tires to get the best possible traction. Unfortunately this made his car hard to drive, and he spun it on the first corner while riding the kerb. This gave Florian a huge lead, which he never conceded. Robert, who was dead last and lost 8 seconds in the process got back into Peter's slipstream but had to settle for P3.
The overall results were; Florian Joos, Robert Krens, Peter Ende, Olivier Cornard and Peter Roeygens.