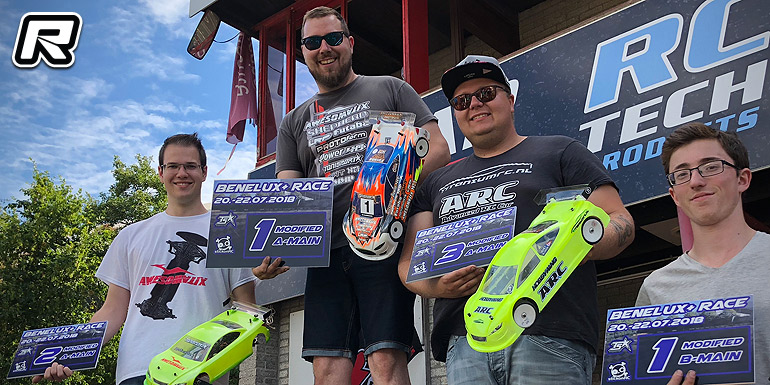 The annual Benelux+ race took place this past weekend at the very fast track of the MAC de Baanbrekers club in Rucphen, The Netherlands. Due to the national holidays, the attendance was a bit lower than in recent years, but a total of 60 drivers were greeted by an excellent weather. The classes for this event were the usual suspects of Touring Stock, Touring Modified, and Formula, all ran according to the ETS rules, as well as Pro10. Everyone was really anxious to see the premier Modified class hit the track. Unfortunately some accidents marred this otherwise great event.
Hot favourite for the title was Awesomatix driver Olivier Bultyinck. Oli started his ambitions in fashion by claiming P1 in Q1. He had a gap of some 3 seconds on Sidney Blokker and Rick Van den Akker.
In Q2 however, Oli had to retire his car as he heard a strange noise coming from his tires. Rick Van den Akker fully benefited from this situation and took the TQ with his Xray. Rick was the only driver to record a 21 lapper. In Q3 disaster struck for young Athan de Witte. Athan had some great runs so far, and was holding a strong P3 position when his tire exploded in the middle of the straight. His car was catapulted at full speed and crashed into a metal barrier, unfortunately with the LiPo battery first. The car exploded and set the dry grass on fire. Fortunately the fire was quickly extinguished, but Athan's car was a total loss. In view of this situation, Oli's decision to retire his car in Q2 was a wise one. The qualifier was won by Olivier in front of Sidney and Rick. The remaining qualifiers were won by Sidney Blokker and Mitchell Van Es. The starting grid was Olivier Bultynck (Awesomatix), Sidney Blokker (ARC), Mitchell Van Es (Awesomatix), Rick Van den Akker (Xray) and Jonathan Gergen (Xray).
The start of A1 was quite dramatic for Rick Van den Akker. On his warmup lap, Rick hit a photographer at full speed on the main straight and wrote his car off. The photographer was fortunately ok, but Rick couldn't compete in A1 as his car was totally destroyed.
Olivier took the hole shot and claimed an uncontested victory in front of Mitchell Van Es. Sidney Blokker had to retire on lap 1, so this opened up the fight for the P3 position. Some five seconds behind Mitchell, Florian Joos (Xray) overtook Jonathan Gergen for P3 and he was closely followed by Athan De Witte, who ran a new untested car and Govert Verbeke (Infinity). Florian did not have the fastest car, but kept the door shut. On lap 12, Athan undeliberately hit Florian and this allowed Jonathan and Govert through while Athan claimed P5 with his Yokomo.
In A2, Rick and Mitchell had a tangle on lap 2, which set Mitchell to the back of the field. In the meantime, Olivier put down some very fast lap times to create a gap to Sidney, who was closely followed by Rick. Rick tried everything in the book to pass Sidney, but couldn't get past. In the meantime, Mitchell clawed his way back from P10 to P5, but couldn't pass Florian, who once again kept the door shut. Mitchell tried everything, but couldn't find a gap. Due to this battle, Mitchell was closely followed by Jonathan, Govert and Athan and they finished in this position.
Oli decided to sit out A3 and let the other drivers fight for the remaining podium spot. Mitchell quickly passed Sidney for P1 and set off. Sidney finished once again in front of Rick Van den Akker, who drove a completely rebuilt and untested car in great fashion. Florian ran in P4 but was hit at the end of the straight by Jonathan. Jonathan waited for Florian to recover, but his car was too badly damaged to continue. Athan put Jonathan under great pressure, but had to contempt himself with P5 in Q3. The overall position were Olivier Bultynck (Awesomatix), Mitchell Van Es (Awesomatix), Sidney Blokker (ARC), Rick Van Den Akker (Xray) and French driver Jonathan Gergen (Xray), who finished P5 on his first visit to this track.