Touring Stock was yet again the most popular class. As some Dutch front runners decided not to participate, the victory would be contested between last year champion Florian Joos, current Belgian championship leader Giovanni Moguez and Frank Baggen, the fast Dutch driver. Qualifying was all about Giovanni Moguez. He took Q1, Q2 and Q3 in great fashion in front of Florian Joos. Frank Baggen used his second set of tires in Q3 and almost managed a TQ run to contest Giovanni's superiority, but as Florian won Q3 and Q4, Frank had to content himself with P3 overall. P4 on the grid went to the 12-years old Dutch driver Ivan Klaasen. The youngster demonstrated great maturity to outsmart seasoned drivers and earn himself a great starting position. Steve Deblaere rounded off the top 5 on the grid. Everyone expected Giovanni to run away in A1, but Florian had other plans. He kept in touch with Giovanni and kept pressurising him for the first six laps. On lap seven, Gio's car spun out and Florian could not avoid him. Florian could soldier on with a tweaked car in P1, but Gio had to let even Frank pass for P2. Gio kept pushing Frank and passed him in great fashion. He reeled Florian in and tried to pass him on the penultimate turn. Unfortunately, the cars touched and Frank benefited from the melee. Florian claimed the victory from Giovanni, who found a way to pass Frank again. Ivan finished in a solid P4 in front of Steve.
Giovanni took the holeshot again in A2. Florian's car was much better this round and he could challenge Giovanni's lead even better. Coming onto the main straight, Gio tried to gain maximum speed, but cut the corner a bit too deep. This made his car spin in front of Florian, who just managed to avoid him. Unfortunately, Gio lost three seconds and his position to Frank. They fought hard for P2, but it in the end it was Frank who got P2 in front of Gio and Ivan, who kept his cool despite massive pressure from Steve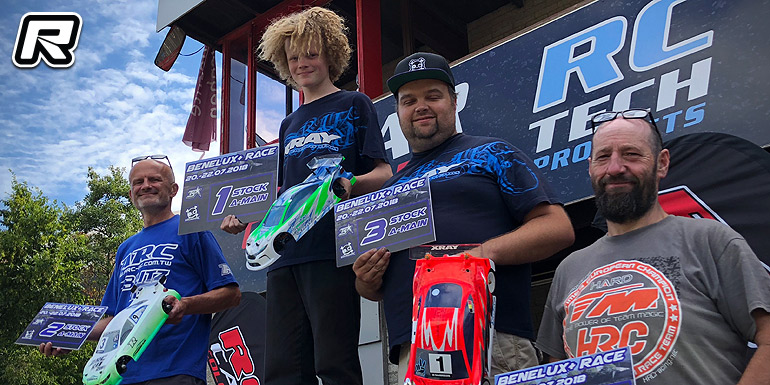 Florian decided to run A3 to test a different bodyshell. He claimed A3 as well in front of Frank, Ivan, Steve and French racer Vincent Engler. Vincent uses his transmitter single handed, but manages to do so with much precision and speed. The overall ranking was Florian Joos (Xray), Frank Baggen (ARC), Giovanni Moguez (Xray), Ivan Klaasen (ARC) and Steve Deblaere (Serpent).