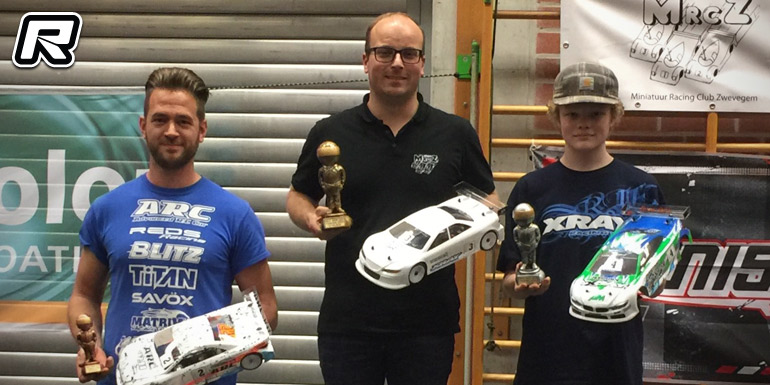 In the Touring Modified class Mitchell Van Ess (Awesomatix) was on fire during the qualifiers. The young Dutch driver claimed three TQ runs out of five, earning him the overall TQ spot. Former ENS winner John Ermen (ARC) proved his was in contention as well by claiming a Q5 with the fastest time of the day. Local matador Thomas Stockman put his Xray on P3 in front of fellow Xray driver Florian Joos and the Yokomo of young Liam Van de Wouwer who put in a couple of fast and consistent runs. Athan De Witte didn't have the best of qualifying runs, but a very strong Q5 proved he was keen to get his VBC on the podium.
The finals would prove a bit of a lottery, as the top drivers were sometimes 3 laps faster than the lower placed drivers, who off course also battled for their positions. In A1, Mitchell made a blistering start until he made a rare error, which ended his race on lap 8. In the meantime, John took over the lead, closely followed by Thomas who pushed John to the limit. When Thomas attempted to pass, the two cars collided and Thomas waited for John to regain his position. Florian took profit from this mishap and snatched the win in A1 in front of John, Thomas, Stefan Rommens (Team Magic) and Liam Van de Wouwer.
In A2, Mitchell again took the holeshot, but his time an encounter with a backmarker on lap 5 dropped him back down the field. John had a rough start as well, and this allowed Thomas into the lead which he maintained in front of Florian Joos and Athan De Witte, who stormed to P3, coming from P7. Liam Van de Wouwer and John Ermen rounded off the top 5.
A3 would yet again be the decider for the overall victory. Florian's hopes ended at the start when he got hit from the back and ended in a mid-pack collision of which Athan was the biggest victim. Liam also had to retire from this incident.
In the meantime, Mitchell, who was keen to end this race on a high, set again off in the lead. He held his lead till lap 8, when the race announcer asked a lapped car to let the leaders through. Unfortunately, when Mitchell passed, the backmarker accelerated and took Mitchell out of the race. Thomas inherited the lead with John in his slipstream and Athan and Florian not far behind. John was looking extremely racy behind Thomas and when Thomas ran just an inch too wide, John made a great move to take the lead, which he held till the end. While Athan was running in a solid P3, he had an electronic problem which forced him into a DNF. When the dust had settled the overall standings was Thomas Stockman (Xray) from Florian Joos (Xray), John Ermen (ARC), Athan De Witte (VBC) and Stefan Rommens (Team Magic).