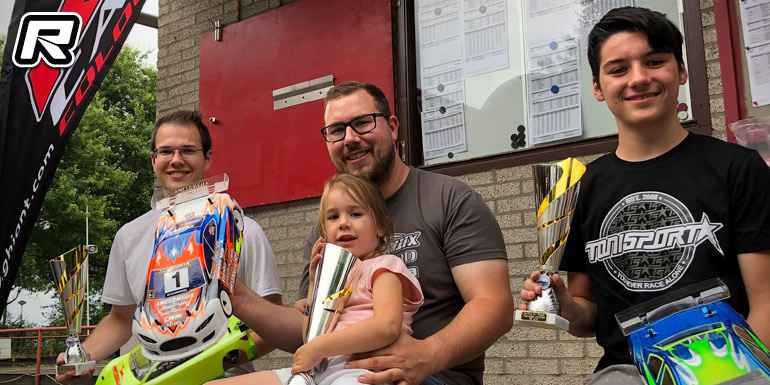 The MAC de Baanbrekers club played host to the fourth round of the Belgian Electric On-road Nationals over the weekend. With the Benelux+ race held a week ago on the same track, every driver was focused and keen to get a good result. The biggest uncertainty would however prove to be the weather. On Sunday morning, everyone was checking the weather apps as heavy showers were expected to appear around 15 p.m. Qualifying got underway on a dry track, but the strong winds made the track very tricky to drive. In the premier Touring Modified class, everyone expected Olivier Bultynck (Awesomatix) to dominate the event. His usually strongest opponent, young Dutch driver Mitchell Van Es (Awesomatix), couldn't quite get the perfect setup for the changing track conditions and had to settle for P2 in the first qualifier, some eight seconds behind Olivier. Florian Joos (Xray) took a provisional 3rd place. Young Athan De Witte (Yokomo) had been very strong in the practice sessions, but had to retire his car with a diff issue.
In Q2 however, Athan was on fire and was lapping two seconds faster than the provisional pole set by Oli. Athan put down some great laps, but then disaster struck and his car got caught by the strong winds coming onto the main straight. This resulted in a DNF for Athan and in a status quo for the qualifiers. In Q3 he came back with a mission however and promoted himself to a great P2 starting position, relegating Mitchell and Florian respectively to P3 and P4. P5 was occupied by Dutch driver Rick Van den Akker, who was running an Xray.
Before the start of A1, it started to drizzle. Everyone was hoping to get the run done before the heavens opened, but Mitchell had an issue with his drivetrain and requested a ten minutes delay. This caused some frantic action in the pits, as some drivers took their rain car, while others tried to waterproof their dry car. When the cars finally lined up for the start of the race, with Mitchell on P11 according to the rules, the track was damp, but not wet enough for rain tyres. In these difficult conditions, Oli set of in a relentless pace, avoiding the kerbs and wet patches. Behind him, Florian Joos too profit from a spin of Athan to take P2 and was chased hard by Steve Lambrechts (Xray), Rick and a recovering Athan. Florian was running his Hobbywing speedo in sensorless mode to avoid problems with the water and was down on power on the long straights. Athan was lapping faster than everyone else and overtook Rick, Steve and eventually Florian for P2. He set off in pursuit of Olli, but he had the victory in his bag with Athan in P2, followed by Florian, Rick and Steve.
A3 would thus decide the remaining podium spot. Mitchell exploited his newer tyres to the fullest and won A3 in front of Athan, Steve, Florian and Rick. The overall result was Olivier Bultynck (Awesomatix), Mitchell van Es (Awesomatix), Athan de Witte (Yokomo), Florian Joos (Xray), Steve Lambrechts (Xray).
The Touring Stock class was again the most contested category. After claiming a great P2 in the previous Benelux+ race, Xray driver Giovanni Moguez was quite keen to go one better for the Belgian nationals. His closest opponent would again be Vincent Van Gansen (Xray). Vincent is runner up in the championship and needed another victory to put Giovanni under more pressure. During Q1, Giovanni was imperial and was the only car to be able to hit the 19 laps. Vincent was about three seconds adrift with Dutch veteran ace Frank Baggen (ARC) a further two seconds back. Biggest surprise was however Carl Van den Bulck, who put his new Awesomatix in a fine P4, followed by Patrick Prinsen (ARC). In Q2, Vincent would put on a great show. He did everything he could, but missed the win by 0.2 of a second. This almost certainly gave the TQ spot to Giovanni, because there was only one set of allocated tyres for stock. Q3 would prove slower, and both Giovanni and Vincent decided to sit this qualifier out. The starting grid remained unchanged.
Before the start of the race, Gio was a bit tense because of the weather forecast. The predicted showers would hit the track around the first finals, and he had forgotten his rain car. When he put his car on the grid, he absolutely needed to win A1 in case it would rain. Vincent had a great start and challenged Gio for the first couple of laps, but then Gio slowly started to put some more space between the both of them. While Frank and Carl had a coming together which caused Frank to withdraw from the race, Gio got caught by the wind on the main straight and spun out. This allowed Vincent and Patrick Prinsen through. Giovanni managed to recover P2, but Vincent took an unchallenged win. P4 went to Peter Degrande (Infinity) in front of Carl Van den Bulck.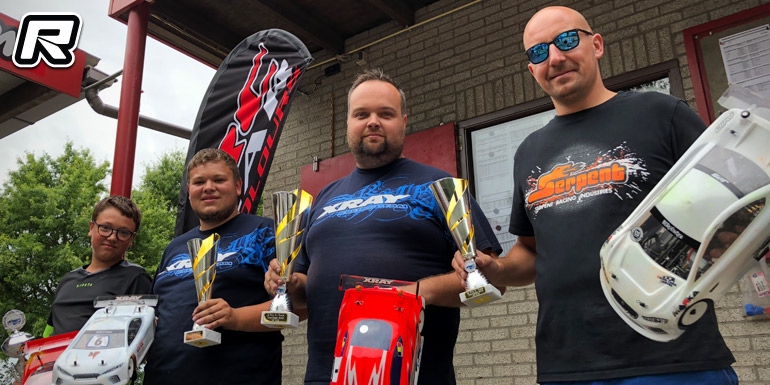 A2 would be another tight battle between Gio and Vincent, with Giovanni having the upper hand this time. P3 went to Frank Baggen, in front of Steve Deblaere (Serpent) and Tom Adams (Schumacher). Fortunately the weather remained dry when A3 got underway. Giovanni once again took the holeshot with Vincent trailing him in his slipstream. Despite the immense pressure, Giovanni withstood the challenge and claimed P1 and the overall victory. Vincent took P2 0.3 of a second back. Another great battle for P3 raged on for four minutes, and in the end, Carl took it from Steve and Frank. The three drivers were within 0.8 of a second and displayed some fine driving. The overall result was Giovanni Moguez (Xray), Vincent Van Gansen (Xray), Steve Deblaere (Serpent), Carl Van den Bulck (Awesomatix) and Frank Baggen (ARC).
Dutch Formula ace Jitse Miedema (Infinity) decided to give his Belgian friends a run for their money and entered this round of the Belgian Nats. During practice on the Saturday, Jitse and Olivier Bultynck (Shepherd) showed great pace. The new ETS Volante prototype F1 tyres were allowed for this race, but they were a bit slower than the older type on this grippy track. Most drivers thus opted to use the normal version. On Sunday, Jitse was on fire and posted a new lap record with a 17.9 seconds lap. Oli on the other hand had real issues with his tyres and lacked traction and steering. He managed to claim a P2, but was 9 seconds adrift from Jitse. Steve Deblaere (Serpent) was second fastest in the first qualifier, but had some transponder issues. He thus lost his good qualification time and had to do it over again in Q2 and Q3. While Ollie's traction problems continued, Patrick Jongenelis (Xray) managed to relegate Steve to P4 on the starting grid with a very solid run in Q3. Florian Joos (Xray) rounded off the top 5.
In the finals, Oli once again showed his class by overcoming his traction problems and challenging Jitse for 8 minutes long for the lead. Both drivers showed great skill and respect as they diced for the lead. In the end, Jitse prevailed but with the three finals combined, he won by a small margin of 0.82 seconds after 24 minutes. P3 went to Steve Deblaere (Serpent), who made it a 3-horse battle in A3 by finishing close to Oli in P3. Patrick Jongenelis (Xray) took P4 in front of youngster Liam Van de Wouwer who achieved yet another great result after his promising result in the Benelux race.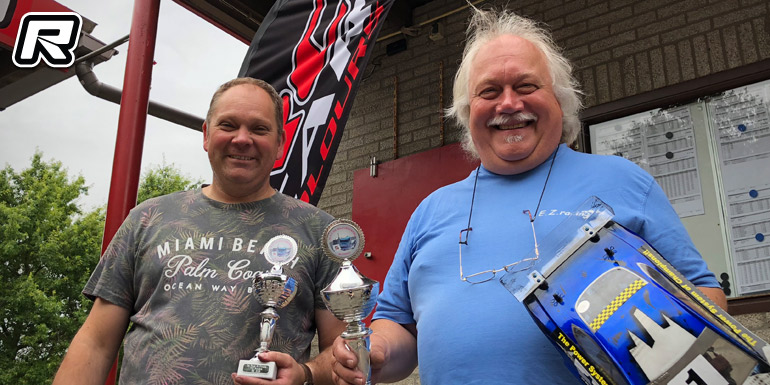 The supporting Rookie class was a clean sweep for Marc Joosens, who won it from Herman Van Gansen and Luc Wauters.
Thanks to David Joos for the report.